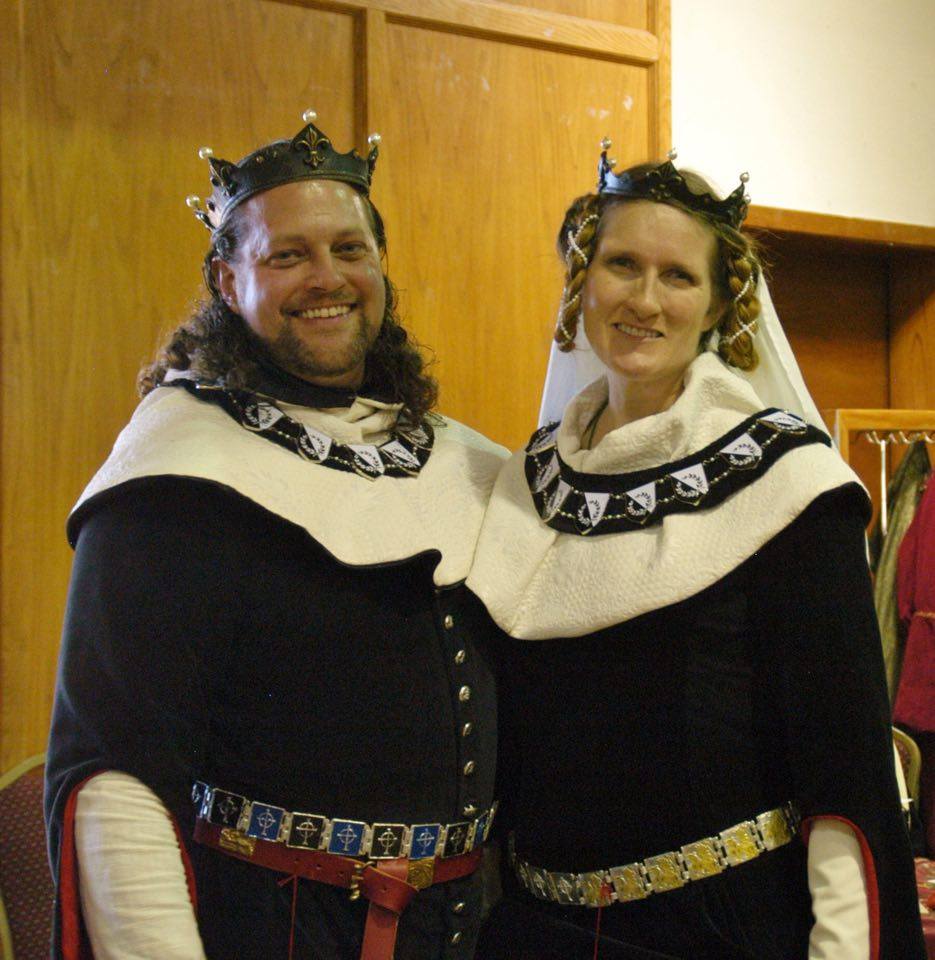 Æylwin de Spencer & Amanda de Spencer
Baron and Baroness of Loch Salann
Contact us at: baron@loch-salann.org & baroness@loch-salann.org 
Words from our Baron and Baroness
This world exists, and you have cracked open the door to this world by reading this. In this world there are Knights, Kings, Queens, Lords, Artisans, Mercenary Bands, Grand Tournaments, Displays of Arts and Sciences, Dancers, Musicians, Bards, and Jesters.
And you don't 'roll them up' with dice or play them on a computer screen. This is real. The food and drink have flavor. The beautiful women and dashing men you dance with are truly there. The children play in real fields. The sword and shield have real heft. And the sound of your arrow striking the target came from your bow.
There are some who might say we are rather silly, playing in a make-believe world. And they would be right. Who says the world has to be serious all of the time? Why do adults have to deny themselves a bit of make-believe? You may just find that this 'make-believe' world has the very values and people you have sought all your life in the 'real world'. And it's great fun!
You have cracked the door. Now swing it a little wider. Look through this site and see some of the things we do. Come to a fighter practice and meet us. (We call it 'Fighter Practice', but in reality it is more of a social gathering.) Or join us for some other activity. You will find them throughout this site.
Whether your quest takes you to us, or you pass us by in search of other pursuits, thank you for taking the time to read this little missive.
May your journeys always lead you to happiness and good fortune,
Æylwin de Spencer & Amanda de Spencer
Baron & Baroness of Loch Salann
Chamberlain:
Baron Morgan Blaidd Du
Scribe:
Lady Perwyr verch Owen
Demo Coordinator:
Count Floki Hvitskeggr Lambason
Baronial Advisors:
Duke Timmur Jochan
HE Robert de Spencer
HE Leah de Spencer
HE Rachel
HE Ulrich
Duke Ronin Geirson Ta Rautalahti
Duchess Claire de Lacy
Herald:
Don Conchobhar mac Michil
Herald:
Lord Robert de Spencer II
Captain of the Guard and Baronial Warlord:
Count Raven MacLeod
Armored Combat Guard:
M'Lord Mordachai Ver Rekojison
Lord Richard Johnson
Lord Vincenzo Del'Aquila
Lady Elfwyn Starsdotir
Lord Juan Sebastian
Lord Jonathan de Spencer
Lord Deryck of Annesley
Lord Gustav
Lord Seamus the Shameless
Lord Christoph von Lubbeke
Lady Rhianna ingen Cathail
Rapier Guard:
Ladyship Germain Jambert I'Innocent
Lord Johann WolfBlut
Lord Zachary McRaven
Thrown Weapons Guard:
Lord Aleksandr Hrafnson
Archery Guard:
Lord Vladislov Korsakov
Head Lady in Waiting:
m'Lady Bronwyn

Ladies in Waiting:
Lady Aingeal Inghean Garaidh
M'Lady Kailee Griner
m'Lady Dawnya
m'Lady Portia del Aquila
Lady Gwenevere McAy
m'Lady Emilee Jackson
Lady Aegina Graham
m'Lady Brielle van de Staren
m'Lady Gwyn Stephensdotir
M'Lady Aleah de Spencer
m'Lady Gillian